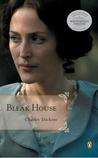 Bleak House by Charles Dickens
My rating: 4 of 5 stars
Bleak House is a full length novel by Charles Dickens. It is probably most famous for featuring the long running Jarndyce vs Jarndyce case but this is a secondary theme to the story of Esther Summerson. Esther has been brought up in mysterious circumstances and has been told about her mother
Your mother, Esther, is your disgrace and you were hers.
Esther is taken in by the wealthy John Jarndyce to be a companion to his young ward, Ada Clare. Esther, Mr Jarndyce and the young wards in Jarndyce are central to the story.
I'm not going to say more about this to avoid spoilers.
Like much of Dickens, social issues are covered: the slow law courts, illegitimacy, the homeless poor and more.
This was my second reading of Bleak House; the first being three years ago. On this reading, I appreciated the intricacy of the plot and the amount of foreshadowing within the writing. It felt as through Dickens was trying to hint at what was coming next, yet, not enough that he gives the game away. This feature helped the book keep its appeal despite knowing what would happen next.
Bleak House falls down on the lack of character development in some of the major players. For example, John Jarndyce is an enigmatic character and a major part of the story, yet, as an older man, his past is not explored and his thoughts and emotions are only seen though the eyes of Esther. Esther, herself, is too perfect. Yes, she sometimes betrays herself but generally, she is flatter, as a person, than we would expect especially when compared with what we come to know of the depths of emotion in her mother. Does she repress all emotion even from the diary? The third person who seems only too superficial is Allan Woodcourt. His conversation is Esther, on walking back from Richard and Ada's, near the end of the book is constrained despite the fact that he might have grounds to have felt deceived by the third party.
Some other, more minor, characters seem better described, for example, Caddy Jellaby and Sir Leicester Dedlock. Both of these are also developed through the book.
This is not a children's book. I certainly read some Dickens as a child but hadn't read
Bleak House
until three years ago. I wouldn't have a problem with one of my teenagers reading the book but there would need to be some discussion around the social issues.
Do read this book for the richness of the plot; the language and the way in which inanimate objects pick up the mood of the book but be prepared to be left with questions about some characters.
View all my reviews
This is linked to Back to the Classics 2016.
If you enjoyed this post you may like to follow Delivering Grace by Google Friend Connect, G+,Facebook, Pinterest, Instagram or e-mail.