Knowing simple number facts is an important skill but one that takes time to learn. Younger Daughter is learning more multiplication tables in this coming year so I was pleased to have the opportunity to review UberSmart Math Facts

from UberSmart Software.
UberSmart Math Facts is a downloadable piece of software for Windows. Please note that it does not work on Macs. It is aimed for children from year one to year seven (US K to 6) but would also be helpful for older students who need to work on number facts. We used the new version 4.0 which is available from 1st September. The download was easy and problem free. It is possible to register multiple students. I registered four students, including myself, but the programme was mainly used by Younger Daughter.
We started with the test section which initially works through counting skills. This is part of the beginner test. Younger Daughter managed this easily so went onto the keyboard skills section which looks at the time it takes to input numbers. The test stopped at this stage as her inputting skills were too slow. This meant that the programme suggested that she spent time practising inputting numbers. Neither Younger Daughter nor I were happy about this as we had hoped that she would get to work on her number facts and plan to address typing separately. Interestingly, I took the mastery test and although my inputting skills were said to be slow, I was allowed onto the rest of the test. I had struggled with the method suggested of putting in numbers but went back to my usual practice. The latter portion of the test said that my answers were far faster than the cutoff. The latter part of the test goes through the four operations (addition, subtraction, multiplication and division). The questions are simple and do not appear to cover addition beyond 20 or multiplication beyond 12.
Younger Daughter did practice her number inputting initially but we discovered that we could go onto the number fact tests despite this problem. Within the practice section, there is a choice of beginner or intermediate. The beginners include dot cards
and keyboard entry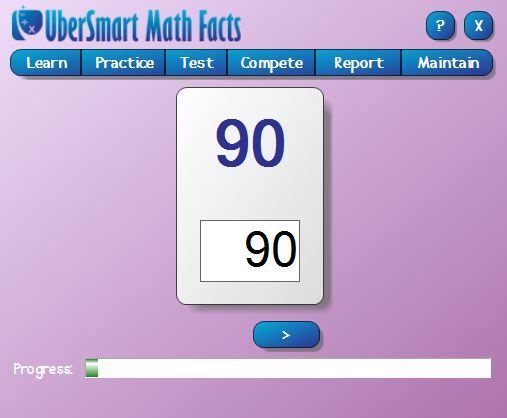 and intermediate has one section: flash cards.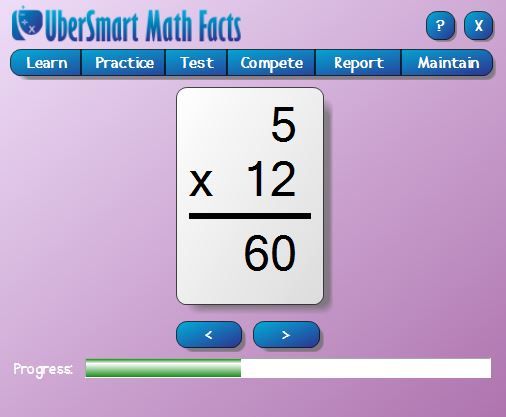 We didn't use the Learn tab. This shows the cards for different sums with a "show" button to give the answer.
The Compete section allows scores to be ranked against other users' scores around the world.
The Report section details the progress of students and would be particularly helpful for children using this independently. I tended to be with my daughter whilst she worked on the programme so didn't use this much. Once term starts again, this will be a useful tool!
In addition, to the downloadable UberSmart Software, UberSmart Math Facts also has some helpful free sheets for practising the four operations.
It is possible to set different ranges of tables up to 20X. We didn't work with the higher tables.
What did we think?
Younger Daughter didn't particularly enjoy this programme for two reasons: getting stuck on the initial test with her inputting time and she found the programme quite plain.
I think that this is a useful workhorse. I doubt that we would use this programme daily over the next academic year but use it sometimes as part of our daily tables practice. The downloadable sheets are another part of this daily practice but with a variety of methods.
The cost is a one off $24.95 (about £15.05 at the time of writing). However, there is a special code for 30% off the new version, valid until 30th September. The code is

v4

Early Bird and should be entered on the purchase page.